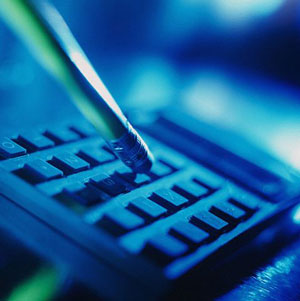 Without Realizing It
There is the story of Jim, who, without realizing it, carried a pocket calculator he had been looking at, out of the store, along with his purchases. When he got to the car he tossed his packages onto the front seat and one of them slid to the floor. As he bent over to pick it up he saw the calculator underneath it. To anyone looking on, of course, it would appear that he was trying to hide it.
And someone was looking on. Just at that moment the store owner opened the car door and demanded that he get out. He was arrested for shoplifting.
This was a serious blow. Jim and his family were new in the city. Nobody knew him. His job and his reputation were at stake. It was the next day before he could get up courage to tell Janine what had happened. "It was so stupid," he said, "so stupid!" He felt he had to plead guilty. After all, the calculator was in his possessions when he was arrested. No one would be concerned about whether he meant to take it or not.
He was called before the judge the next Friday and the charges were read. There were the usual formalities. But when the judge asked if he had anything to say, he explained what had happened. The judge interrupted. "Just a minute. Are you trying to say that you did not intend to take this calculator?"
"No, I did not, Your Honor."
"Then I can't accept your plea of guilty. This case will have to be held over for trial in a criminal court." The trial was set for November 20.
Jim and Janine were praying constantly these days—praying as they had never prayed before.
The trial was on a Thursday. Six witnesses testified against Jim. Then his lawyer called for a recess and told Jim he could get him off on a technicality. None of the witnesses could prove it was the same calculator. Jim didn't want that. And then the judge had to leave to catch a plane. Court was adjourned until the next Tuesday.
Jim and Janine kept praying. Janine fasted one day. All that mattered was that she must be right with God. Otherwise, how could He hear her prayers? Then she experienced a calm and a peace she had not known before.
On Tuesday all the judge had to do was sum up his findings and give his verdict. But something was added. The judge had a story to tell of what had happened to him on Saturday. Shopping in the Redlands Shopping Center, he made several purchases and looked at a number of other items. As he was getting into his car, he suddenly realized he had accidentally picked up an item and brought it out with him. "If I had been stopped then, "he told the lawyers, "I would have been in exactly the same predicament as this man."
And then, "Not guilty. Case dismissed."
Angels must have wept tears of joy along with Jim and Janine!
M. L. Lloyd