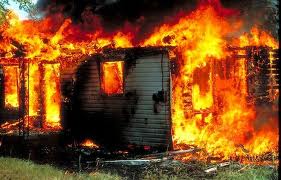 Fire
A hysterical woman ran toward us, crying out something indistinct. Her screams were drowned by the roaring of flames and the shattering of glass as windows exploded. Just minutes before she had been preparing breakfast in the kitchen, while a visiting relative was lighting a fire in the living room heater. After several failed attempts, the guest had decided to use gasoline to ignite the material. You can guess what happened next.
It had been on our way to work that we notice that giant plume of oily black smoke. Rounding a bend we gazed horrified at the scene. The foul smell of burning asphalt hung in the air. As we rushed to see what we could do to help, the poor lady came up to us crying and trying to tell us that her keys were still in the house. She could not move her car which was parked dangerously close to the inferno. After trying to push it away, we realized we would not be able to move it.
From what the lady said, I understood that there was someone trapped inside. I circled the now completely burning house, trying to find a window or doorway that was not pouring smoke or flame. There was none. Then Dad noticed the electric wires suspended over the home were starting to melt and fray, and he called for me to come back to where he was.
Retracing my steps, I wished that somehow we could do something. But I finally realized there was nothing we could do. For a few moments we stood there frozen by the horror of the impressive spectacle, then slowly turned to leave as sirens wailed in the distance.
That cruel day I became acutely aware of the shortness and uncertainty of life. And it made me think. What if my own home had been destroyed that morning? If my family had been so suddenly displaced? Would I have been prepared to meet my Lord had the fire claimed me as its victim?
Then another thought more awesome came to mind. We are living in the time of judgment. Our Lord Jesus, the High Priest, is looking over the lives of everyone that professes to follow Him. Another fire, much hotter, will be the end of those who fail to accept Jesus' love and follow their own way instead.
"Every man's work shall be made manifest: for the day shall declare it because it shall be revealed by fire, and the fire shall try every man's work of what sort it is."
(1 Corinthians 3:13).
Friend could He be looking at your name just now? It is a solemn thought. Do not think that you have an indefinite period of time in which to prepare for the judgment. Today, you may make your final decision.
Why today, you ask? I read once a story about a young man who grew up in a Christian home. He knew the Bible stories, he heard the minister preaching about salvation, but he decided he wouldn't make a total surrender just yet. I can't give up everything yet, he reasoned. There are things I want to do.
This particular young man had a fascination with cars, especially fast ones. He had lots of fun driving at high speed to impress his friends. One evening he invited a young woman to accompany him. He brought some alcoholic drinks along, too. They were having a thrilling ride, when all of a sudden a sharp curve appeared ahead. They were going too fast. Worse, a big truck and trailer were slowly rounding that curve. The truck driver tried to avoid them, but they plunged ahead—right into the side of the trailer. Both the young man and his companion were killed instantly. Thus their lives were ended. No more opportunity to choose God's way. What had been the fruit of their effort?
And what about you and me? We do not have the liberty to do what we please, and then come to the Lord at a convenient time. This moment, every moment, is a decision time. What you do today might set off a chain of events that would ruin your life and your soul.
"Remember now thy Creator in the days of thy youth, while the evil days come not, nor the years draw nigh, when thou shalt say, I have no pleasure in them." (Ecclesiastes 12:1).
Oh friend will you make the decision with me? Seeking the Lord now is important. Do not put it off for some time when you are older. Youth is the best time of your life. There is no better time to go all out for God. Do not think that you can play with Satan's amusements for a while, and give your heart to the Lord later.
"Be sober, be vigilant; because your adversary the devil, as a roaring lion, walketh about, seeking whom he may devour." (1Peter 5:8).
I challenge you to renew your commitment to Jesus. And if you have not given Him your heart, do it today, it will be the beginning of a brand new experience.
Have courage, young brothers and sisters, Jesus is coming. Very soon now, we are going to see His face. It is my hope and prayer that we will be waiting for Him then.
Nathan Tyler