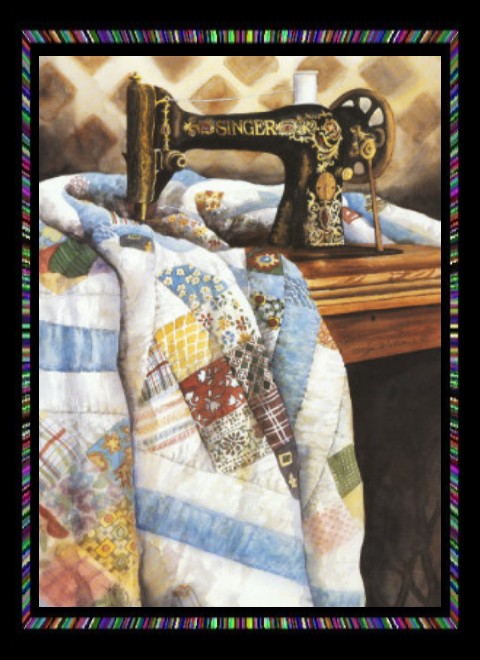 The
Scripture
Quilt
"In one of the boxes sent to us by the Sanitary Commission," writes a Christian worker in a southern army hospital, "was a patch-work quilt of unusual softness and lightness. When we opened it, we found a note pinned to it. It read as follows:--
"'I have made this Scripture quilt for one of the hospital beds, for I thought that while it would be a comfort to the poor body, it might speak a word of good to the precious soul; the words are so beautiful and blessed, and full of balm and healing! May it be blessed to the dear boys in the army, among whom I have a son.'
"It was made of square blocks of calico and white cotton intermingled, and on every white block was written a verse from the Bible or a couplet from one of our best hymns. On the central block, in letters so large as to catch the careless eye, was that faithful saying, in which is our hope and strength—'Christ Jesus came into the world to save sinners.' And below it the prayer of all prayers, 'God be merciful to me a sinner.' The head border, which would be nearest to the sick man's eyes, and oftenest read had the sweetest texts of promise, and love, and comfort. Among them I read, 'God so loved the world, that He gave His only-begotten Son, that whosoever believeth in Him should not perish." 'Come unto me, all ye that labor and are heavy-laden, and I will give you rest.' "Ho, every one that thirsteth, come ye to the waters!' 'I sought the Lord, and He heard me, and delivered me from all my fears.' 'Oh,' we said, 'Oh that all our beds had such quilts! God will surely speak through these text to the sick and wounded men! They will read them when they will read nothing else. Who knows how much good they will do?"
"It was not long before a man sick with pneumonia was brought in, and we put our new quilt on his bed. He noticed nothing at first, he was too sick; but when he grew better, I saw him intent on the texts. 'handy to have 'em there!' he said, pointing to them as I stood near him. 'You know how to value them, then,' I said. 'I do,' he answered, with heartiness. After that I saw many studying the quilt—almost all who lay beneath it. One poor fellow, who had tossed in pain and feverishness for several days, caught sight of the words, 'And I will give you rest,' He beckoned to me, and said, 'Rest! Where can I get it? Rest for body and mind, both! I am half mad—sick, as you can see, but sicker—as no one can see. Tell me how to get rest!' 'Did you never hear of the way--never hear of Jesus?' 'Tell me again.' I told him the story of the cross. 'Died for my sins?' he asked. 'Yes yours. He saw you in your sins and pitied you. Loved you, died to save you from sin and give you rest; to make you happy.' 'I have never been happy—never. I have been too wicked. And he really died for me? I never felt it before. It never seemed to me a real thing.' 'I hope you will come to feel it the most real thing. Have you seen the lines—
"'None but Jesus, none but Jesus,
Can do helpless sinners good'?
"'It's true. I know it is none but Jesus! I've tried everything else.'
"'I'll go to Jesus, though my sins
Have like a mountain risen,'
I repeated. 'I can't go. I feel that I can't do anything. I am here a very wretched man; and that is all,' 'Just leave yourself to God, then,--
"'Here, Lord, I give myself away,
'Tis all that I can do.'
That's all you have to do.' 'Is that verse here?' I showed it to him on the quilt. 'I'll keep it before me. Oh for rest! A little rest!' he groaned again. Not long after he found it,--found peace in believing, and left his hospital bed, happier than he had ever been before.
"An Irishman lay under the Scripture quilt. One day when nearly well, he was looking at it. 'Is that radin?' he asked, putting his finger on the text. 'Yes.' 'Sure, and what does it say?' I read, and God shall wipe away all tears from their eyes, and there shall be no more death, neither sorrow, nor crying, neither shall there be anymore pain.' 'Ye might rade that,' he said, pointing to another text. I love them that love me, and they that seek me early shall find me.' 'It is the Lord who says this,' I added after the text. 'Sure it's good to a lonesome pareson to hear what you rade.' 'So it is. There is no book like the Bible in dark and trying hours.'
"At last came the boy who had the best right to the comfort of our Scripture quilt,-- the son, of whom the good woman who made it spoke in the note attached. It was a strange circumstance that he should have come to lie beneath it, but so it was. He had lain there nearly senseless for more than a week, when I saw him kiss the patch-work. I thought he might be wandering, or if not, had found a text of hope or consolation that seemed to suit his need, and marked with my eye the placed he had kissed, to see what it was. It was no text, but a calico block, the pattern a little crimson leaf on a dark ground. He kept looking at it, with tears in his eyes, and I was almost sure his mind was wandering. Nay, he was never more in his right mind, and his thoughts were at home with his mother. A bit of the gown he had so often seen her wear had carried him back to her. He kissed it again. I approached him. He looked up and smiled through his tears.
"'Do you know where this quilt came from?' he asked. 'Some good woman sent it to us through the Sanitary Commission.' 'You don't know her name, nor where it came from?' 'No, but I saved a note that was pinned to the quilt.' 'Would you be willing to let me see it sometime when it is convenient?' 'Oh, yes. I'll get it now.' I got it for him; his hand trembled, and his lips grew white as he opened it and saw the writing. 'Please read it to me quite slowly,' he said, returning it. I read it. 'It is from my mother; shall you keep it?' 'Yes,' I answered, 'I value it very much, and also the quilt.' He put his hands over his eyes. I thought he wished to be alone, and left him. As I stood by his bed the next day. I was wondering if he had not seen his mother's text, as well as the bit of her gown. He had, and pointed one out to me. It was, 'Father, I have sinned against heaven and in they sight, and am no more worthy to be called thy son.' 'I am no more worthy.' He whispered. I put my finger on the next white block, and read aloud, 'When he was yet a great way off, his father saw him, and had compassion, and ran and fell on his neck, and kissed him.' As I looked up, I saw there were tears upon his cheeks, and his lips were tremulous. He covered his eyes, and I left him. A few days after, when he had grown much stronger, he held up to me the text I had shown him. 'I was a great way off,' he said, but he had met me and had compassion on me.' 'You feel the Saviour's love?' 'It fills me with peace. What love! What a Saviour!' 'Shall I not write to your mother and tell her that her son, who was dead, is alive again; was lost, and is found?' 'Will it not be too much trouble?' 'Oh, no, a pleasure instead.' I wrote the blessed tidings, making the mother's heart rejoice. And now our scripture quilt was even dearer and more sacred than before."
How ever dark the skies may appear
And however souls may blunder
I tell you it all will work out clear
For good lies over and under.
--Ella Wheeler Wilcox.
Vroman