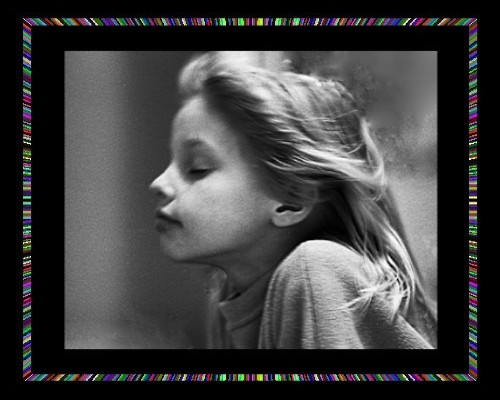 The Little
Sisters
"You were not here yesterday," said the gentle teacher of the little village school, as she placed her hand kindly on the curly head of one of her pupils. It was recess time, but the little girl addressed had not gone to frolic away the ten minutes, not even left her seat, but sat absorbed in what seemed a fruitless attempt to make herself mistress of an example in long division,
Her face and neck crimsoned at the remark of her teacher, but looking up, she seemed somewhat reassured by the kind glance that met her, and answered, "No, ma'am, I was not, but sister Nellie was."
"I remember there was a little girl who called herself Nellie Gray, came in yesterday, but I did not know she was your sister. But why did you not come? You seem to like to study very much."
"It was not because I didn't want to," was the earnest answer, and then she paused and the deep flush again tinged her fair brow; "but she continued after a moment of painful embarrassment, "mother cannot spare both of us conveniently, and so we are going to take turns. I'm going to school one day, and sister the next, and to-night I'm to teach Nellie all I have learned to-day, and tomorrow she will teach me all that she learned while here. It's the only way we can think of getting along, and we want to study very much, so as to sometime keep school ourselves, and take care of mother, because she has to work very hard to take care of us."
With genuine delicacy Miss M___ forbore to question the child further, but sat down beside her, and in a moment explained the rule over which she was puzzling her young brain, so that the hard example was easily finished.
"You had better go out and take the air in a few moments, you have studied very hard to-day," said the teacher, as the little girl put aside the slate.
"I had rather not—I might tear my dress—I will stand by the window and watch the rest."
There was such a peculiar tone in the voice of her pupil as she said, "I might tear my dress," that the teacher was led instinctively to notice it. It was nothing but a nine-penny print of a deep hue, but it was neatly made and had never been washed. And while looking at it, she remembered that during the whole previous fortnight Mary Gray had attended school regularly, she had never seen her wear but that one dress. "She is a thoughtful little girl." said she to herself, "and does not want to make her mother any trouble. I wish I had more such scholars."
The next morning Mary was absent, but her sister occupied he seat. There was something so interesting in the two little sisters, the one eleven, and the other eighteen months younger, agreeing to attend school by turns, that Miss M___ could not forbear observing them very closely. They were pretty faced children, of delicate forms, the elder with dark eyes and chestnut curls, the other with orbs like the sky of June, her white neck veiled by a wealth of golden ringlets. She observed in both, the same close attention to their studies, and as Mary tarried within during the playtime, so did Nellie- and upon speaking to her as she had to her sister, she received the same answer, "I might tear my dress."
The reply caused Miss M___ to notice the garb of her sister. She saw at once that it was of the same piece as Mary's and upon scrutinizing it very closely, she became certain that it was the same dress. It did not fit quite so nicely on Nellie, and was too long for her, and she was evidently ill at ease when she noticed her teacher looking at the bright pink flowers that were so thickly set on the white ground.
The discovery was one that could not but interest a heart so benevolent as that which pulsated in the bosom of the village school-teacher. She ascertained the residence of their mother, and though sorely shortened herself by a narrow purse, that same night, having found at the only store in the place a few yards of the same material, purchased a dress for little Nellie, and made arrangements with the merchant to send it to her in such a way that the donor could not be detected.
Very bright and happy looked Mary Gray on Friday morning, as she entered the school at an early hour. She waited only to place her books in neat order in her desk, ere she approached the teacher, and whispering in a voice that laughed in spite of her efforts to make it low and deferential—"After this week Nellie is coming to school every day, and oh, I am so glad!"
"That is very good news," replied the teacher kindly. "Nellie is fond of her books, I see, and I am happy to know that she can have an opportunity to study them every day." Then she continued, a little good-natured mischief encircling her eyes and dimpling her sweet lips—"But can your mother spare you both conveniently?"
"Oh, yes, ma'am, yes, ma'am, she can now. Something happened that she didn't expect, and she is so glad to have us come as we are to do so." She hesitated a moment, but her young heart was filled to the brim with joy, and when a child is happy it is as natural to tell the cause as it is for a bird to warble when the sun shines. So out of the fullness of her heart she spoke and told her teacher this little story.
She and her sister were the only children of a very poor widow, whose health was so delicate that it was almost impossible to support herself and daughters. She was obliged to keep them out of school all winter, as they had no suitable clothes to wear, but she told them that if they could earn enough by doing odd chores for the neighbors to buy each of them a new dress, they might go in the spring. Very earnestly had the little girls improved their stray chances, and very carefully hoarded the copper coins which usually repaid them. They had nearly saved enough to buy a dress, when Nellie was taken sick, and as the mother had no money beforehand, her own treasure had to be expended.
"Oh, I did feel so bad when school opened and Nellie could not go, because she had no dress," said Mary. "I told mother I wouldn't go either, but she said I had better, for I could teach sister some, and it would be better than no schooling. I stood it for a fortnight, but Nellie's little face seemed all the time looking at me on the way to school, and I couldn't be happy a bit, so I finally thought of a way by which we could both go, and I told mother I would come one day, and the next I would lend Nellie my dress and she might come, and that's the way we have done this week. But last night, don't you think, somebody sent sister a dress just like mine, and now she can come too. Oh, if I only knew who it was, I would get down on my knees and thank them, and so would Nellie. But we don't know, so we've done all we could for them—we've prayed for them—and oh, Miss M___, we are all so glad now. Aint you too?"
"Indeed I am," was the emphatic answer. And when on the following Monday, little Nellie, in the new pink dress, entered the schoolroom, her face radiant as a rose in sunshine, and approaching the teacher's table exclaimed in tones as musical as those of a freed fountain, "I am coming to school every day, and oh, I am so glad!" the teacher felt as she had never done before, that it is more blessed to give than to receive. No millionaire, when he saw his name in the public prints, lauded for his thousand-dollar charities, was ever so happy as the poor school-teacher who wore her gloves a half a summer longer than she ought, and thereby saved enough to buy that little fatherless girl a calico dress.
OUR RECORDS
We built us grand, gorgeous towers
Out toward the western sea
And said in a dream of the summer hours
Thus fair should our record be.
We would strike the bravest chords
That ever rebuked the wrong
And through them should tremble all loving words
That would make the weary strong.
There entered not into our thought
The dangers the way led through
We saw but the gifts of the good we sought
And the good we would strive to do.
Here trace we a hurried line
There blush or a blotted leaf
And fears, vain tears, on the eyelids shine
That the record is so brief.
Vroman