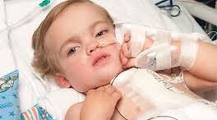 A Child's Song
Little Hery lay in the hospital bed. His eyes were closed against the pain that threatened to overwhelm him. This chubby 2 ½-year-old boy had been burned when a pot of hot water spilled on his legs. His parents sat silently at his bedside, wishing desperately that they could take the pain away.
Hery's Sabbath School teacher walked into the children's ward of the hospital in Madagascar, wearing a bright smile and carrying a small gift for her student. Hery opened his eyes and saw his teacher standing at the foot of his bed. "It hurts," he moaned, looking at the bandages that swaddled his legs.
The teacher leaned over and whispered, "Hery, have you asked Jesus to help you feel better? Can you pray the prayer that you learned at Sabbath School?"
Hery looked thoughtful for a moment, then closed his eyes. "Dear Jesus," he said. Bless Daddy and Mommy, and bless me. Amen."
The teacher visited for a few minutes, then reminded Hery that when he felt lonely or hurt, he could sing a song to help him feel better. The little boy nodded from his pillow and smiled bravely as his teacher walked toward the door of the hospital ward.
A few days later visitors in the children's ward of the hospital heard a little boy singing. They stopped talking and listened as the clear words and sweet melody caught their ear. "Jesus loves me, I am happy." Little Henry sang. It was his favorite song in the cradle-roll class at Sabbath School. This little boy who bore so much pain was singing of his best Friend.
Little Henry died from his injuries, but the message he left in the hearts of those who heard his song bore fruit for the Savior. Two of the people who heard Henry's song were a father and mother whose child was in the hospital ward with Hery. They had seen the little boy's struggle, watched the church members who visited him. They talked with Hery's parents and asked questions about their faith, and accepted the invitation to study the Bible in their home. Today this family—the parents and three children—have accepted Jesus. They look forward to the day they can see little Hery and tell him that his song guided them to heaven.
Isabelle Soalahy