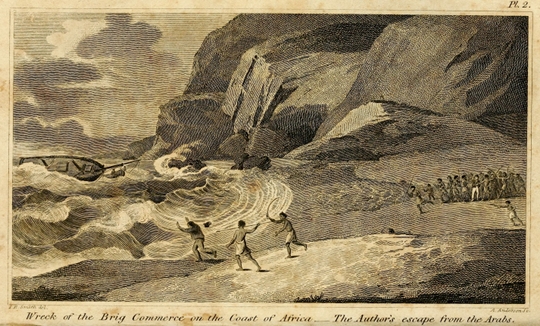 Deliverance
Of The Ship's Crew
On August 9, 1815, the "Brig Commerce" was wrecked on the coast of Africa. Captain Riley tells how he and his crew were saved after the shipwreck.
"We managed to get the small boat's sails, consisting of a gib and mainsail, into the small boat, with a spar that would do for a mast, and the 'Brig's' foremost staysail. We had a keg of water, a few pieces of food, a live pig that weighed abut twenty pounds, about four pounds of figs that had been soaking in the salt water ever since the wreck. (We fished the figs out of the cabin.) This was the total of our provisions.
"The pig had escaped to the shore at the time of the shipwreck. But when the waves pulled us back from the shore, the pig swam back to us and we took it into the small boat. When everything was ready, I tried to encourage the crew as well as I could. I told them that it was better for us to be swallowed up by the sea than to be massacred by the ferocious savages.
"I reminded the crew that God was able to save us, even when the last ray of hope was vanishing and we should never despair, but do our best in our attempt to get to safety, and still hope for His merciful protection. As we looked at the dangers that surrounded us—wave after wave breaking with a dreadful crash constantly just beyond us, our hearts failed us. There seemed to be no possibility of getting safely beyond the breakers unless God intervened.
"I had doubted that God would particularly intervene in any case, yet if there is a general providence, there must be a particular providence! Everyone trembled with fear and dread. We thought that as soon as we went past the wrecked ship, we would be drowned.
"Then I said, 'Let us pull off our hats, my companions and shipmates in distress.' Quickly every man pulled his hat off. I lifted my eyes and soul toward heaven and prayed, 'Great Creator and Preserver of the universe, Who now seest our distresses, we pray Thee to spare our lives and permit us to pass through this overwhelming surf to the open sea. But if we are doomed to perish, Thy will be done. We commit our souls to Thee, our God, Who gave them, and O, universal Father, protect and preserve our widows and children.'
"The winds, as if by divine command, at this very moment ceased to blow. We hauled the boat out. The dreadful surges that were nearly bursting upon us suddenly quit, making a path for our boat, through which we rowed out as smoothly as if we had been on a river in a calm. But on each side of us and just a few yards away, the surf continued to break twenty feet high with unabated fury!
"We had to row nearly a mile in this manner. All of us were fully convinced that we were saved by God's special intervention just when we needed His help. All joined in returning thanks to God for His mercy. As soon as we reached the open sea and had gone some distance from the wreck, we saw the surf rolling behind us with the same force as it had on each side of the boat!" Riley's Narrative, 33, 34.
The following interesting remarks are from the author's preface:
"With respect to the extraordinary circumstance told in the story of the sudden subsiding of the surf when we were about committing ourselves to the open sea in our shattered boat, I know that there will be much comment and probably some ridicule.
"I was advised to not tell that part of the story in case some unbelievers would not believe the rest of my 'narrative.' This probably would have been good advice for me as a mere author. Previously, I might have been suspicious that such a story was not true. But I feel that I cannot withhold an incident that so clearly seemed to my companions and me at the time as the immediate and merciful act of God just when death was pressing close upon us.
"The waters of the sea had well nigh covered us; the proud waves had well nigh gone over our soul. Then cried we unto Thee, O Lord, and thou didst deliver us out of our distresses; the windy storm ceased and turned into a calm."
M. E. Cornell