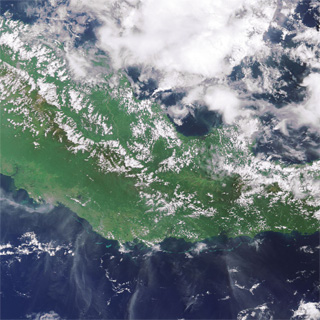 Rain And Flood
Isaac Neabaugo has reason to remember. In his own words he tells what happened as he was trying to introduce Jesus to the people of his own village in the highlands of New Guinea:
"One day I left place where I stay and go to another place where I visit people. When I was there visiting people, the rain came and the flood came and I have no way to across the floody river and I kneel down just bank of the river and ask the Lord to make a way. When I opened my eyes the man was stand beside me and said, "Where you want to go?'
"The man said, 'If you want to go to the other side of the river just follow me.' I follow and man take me to other side of the river and we stand together and I turn my face away from the man and when I turn back I didn't see him anymore.
"That what the Lord had done for me."
Says a writers whose words can be trusted, "The Bible shows us God in His high and holy place, not in a state of inactivity, not in silence and solitude, but surrounded by ten thousand times ten thousand and thousands of thousands of holy beings, all waiting to do His will. Through these messengers He is in active communication with every part of His dominion. By His Spirit He is everywhere present. Through the agency of His Spirit and His angels, He ministers to the children of men.
"Above the distractions of the earth he sits enthroned; all things are open to His divine survey; and from His great and calm eternity He orders that which His providence sees best."
Angels assigned to us on planet earth. Sometimes we see them. Most of the time we don't. But never are we beyond the reach of untiring care!
M.L Lloyd