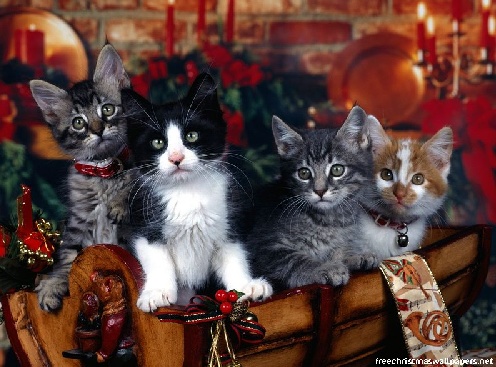 Maggie
And her Lost Cat
Maggie had eight cats that she loved very much. She didn't have many friends, so she thought of her cats as her friends. They were very special to her, and she would often spent time playing with them.
One day while she was outside feeding them she noticed one was missing. Buddy, one of her favorite cats, was gone? Maggie loved to hold him and play with him. She thought that he might be nearby, so she called for him, "Kitty, kitty, kitty," but he didn't come. She started to worry and after she had prayed for Jesus to help her find him, she started looking.
She searched everywhere she could think of, all over the yard, in small places and large places. She looked in a shed and in her playhouse, too but there was no sign of Buddy. Maggie had to go off to school, but she prayed the whole day for him to come home.
After school the search was on again but there was no sign of Buddy. Maggie's parents went with her to enquire of the neighbors nearby, but no one had seen him. Maggie was so sad that he was gone, but it was getting too dark to keep searching. That night Maggie read a verse out of her Bible, and it said, "Ask and it shall be given you; seek and ye shall find; knock and it shall be opened unto you." Matthew 7:7
She was much happier now and had hope. She trusted that Jesus would help her. She had done all she could do and now would wait for Jesus to answer her prayer in His time. Seven days had passed and Maggie still prayed and hoped that Buddy would come home. She trusted Jesus and she called for Buddy everyday.
It was getting darker outside on the eighth day and she knew she needed to go inside but decided to take one more look before retiring for the night. She looked in a nearby shed. No Buddy!
As she started walking back to the house she heard the faint meow. Her heart filled with joy and as she walked closer to the food bowl she saw that it was he. Buddy had come home! She was so happy, and hugged him so tight and immediately prayed and thanked Jesus for the wonderful miracle of bringing Buddy home!
Buddy had a hurt leg and tail, and he was very skinny, but now he was safe at home! As Maggie grew older, she often wondered where Buddy had gone and why Jesus wanted her to wait so long for him to come home. Maybe it was a lesson for her to learn to trust Jesus and to have faith in Him, and to learn patience.
Jesus is the Good Shepherd (John 10:14). Jesus looks for His lost sheep to bring them home to him. It says in the Bible. "What man of you, having an hundred sheep, if he lose one of them, doth not leave the ninety and nine in the wilderness, and go after that which is lost until he find it?" Luke 15:4.
Just as the shepherd leaves the ninety-nine to look for the one sheep that is lost, Jesus looks for us if we are lost, or fallen into some trap that Satan has set. Jesus calls and searches for us until He finds us and brings us home again safely!
We need to trust Jesus and to be like Him. We need to be witnesses for Jesus and search for the sheep that are lost. These lost sheep are the people who may not know of Him and His love. Maggie was so happy when Buddy was safely back home in her care. How much more would Jesus be to have His lost children back home safely in His care again.
Danielle Gerber