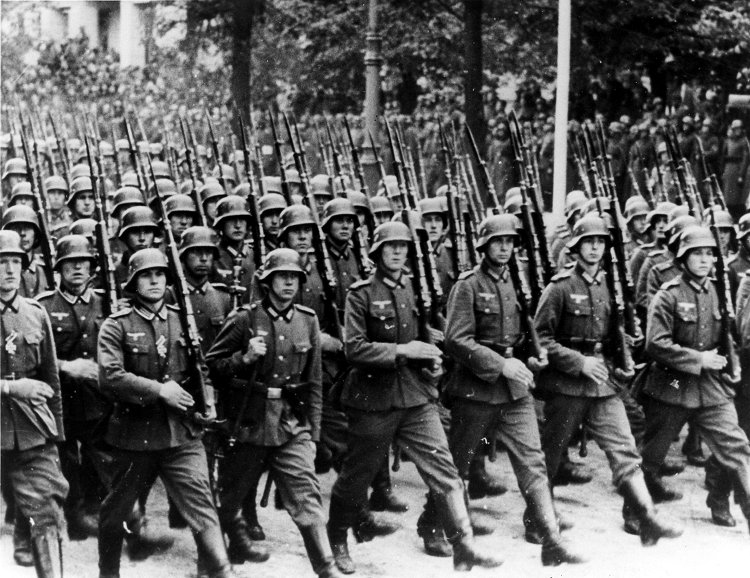 Willie's Story
I was born in 1913 in Berlin. At the time, my father had a dairy that he sold to purchase a one hundred-acre farm in Silesia, East Germany. I completed the required eighth grade education and at the age of 18, after receiving Bible studies, I was baptized into the Seventh-day Adventist Church. My first job was in a glass factory and my wages were 18 marks for a 48-hour week. I also worked for a construction company on the highway.
In January 1933, Adolf Hitler took power in Germany, which forever changed our lives.
In 1935, I married, and four years later, at age 26, I was drafted into the German army as a medic located in Freistadt, Eastern Germany. When the war started, my regiment was sent from Poland to France to Luxembourg to Belgium and the Vogesen Mountains before returning to Germany. When the German army surprisingly attacked Russia and drove toward Stalingrad and Moscow in 1941, I was there where winter temperatures dropped to 40 degrees below zero. The following year, I was assigned to another infantry division and promoted to Sergeant. In January 1943, I was wounded in the town Ischium, Russia, and was assigned to a reserve medical corps in France. Because the bullet was stopped by my pocketknife, I only received a flesh wound that soon healed. Three months later, on returning to active duty in Russia, I found out what a blessing I had received in that flesh wound, as my whole division had been wiped out at Stalingrad. God works in such mysterious ways!
Once I was in a foxhole and shot at by a Russian tank. The round exploded under a pile of loose sand about three feet behind us but only threw a little sand on us. If the sand had not been there, we all would have been killed. My new company was being transferred to a new location by train boxcar. The soldiers were in the middle of the car with horses on either end separated by rope. One night the horses ate the bread I was to have for breakfast. Three times I requested a replacement but was refused each time. As I turned around in the dark I kicked something and as I reached down I found a bigger piece of bread than the horse had eaten.
I was wounded again in Russia while trying to patch up wounded soldiers and was taken by hospital train to Western Germany where I spent 103 days in hospital before returning back to active service in Russia. Again I was wounded, hit by two bullets in the upper right leg, missing the bone and veins, so I was able to patch myself up and used two broomsticks to walk to the doctor.
It was near the end of the war and it was survival time. Germany was in ruins and I had to find my wife and four children who had fled from the east to Western Germany. I wrote a letter to my wife's aunt in Berlin and asked the whereabouts of my family and found out that the Germans who had lived in East Prussia had all fled. In an abandoned house I found a Bible; I took it in my hand and asked God, "What is going on?" I opened the Bible to Isaiah 24:1: "Behold, the Lord maketh the earth empty, and maketh it waste, and turneth it upside down, and scattereth abroad the inhabitants thereof." I was put on a civilian wagon and was driven over a frozen bay about three miles, because the Russians had captured the highways. Two days later thousands of people drowned when the ice broke. The hospital train took me to Rudolfstad in Eastern Germany and then with the Russians coming always closer, I was sent to Hanzing in Bavaria, Germany. One minute before I left, I received a letter that my wife and children had fled to Bavaria, Southern Germany. Several weeks later when the American Army arrived in Bavaria I had to go into prison camp, but I was only there for three days and nights. That last night it rained and was so cold that I walked around in the barbed wire enclosure all night in an effort to keep warm. That next morning I was released; the war was over, and I could walk without crutches.
From Bavaria we moved to Lower Saxony, Western Germany, where I worked the next seven years on a large farm. We barely had enough to eat and almost all of our clothes were hand-me-downs. Thus we decided to seek a sponsor from the General Conference of Seventh-day Adventists and immigrate to the United States of America. In 1952 we left Germany on an old United States Army troop ship, the General R.M. Blatchford, and arrived with six children, ranging in age from 14 years to 1 ½ years old, in the New York Harbor on April 21, 1952. It was Sunday, the first day of the week and the first day of our lives as Americans! The Nazi Empire had lasted only 12 years even though Hitler had wanted to inaugurate a 1,000-year Reich or Empire. At the end of the war, I heard that of 13 local men who were drafted, only three had survived. Those three happened to be Seventh-day Adventist Christians—a neighborhood friend, my brother Rudi and me. Truly God's angels had protected us in the worst war of the 20th Century. The inspired words of Moses in Psalm 91:7–12, 14–16 come to mind: "A thousand may fall at your side, ten thousand at your right hand, but it will not come near you. You will only observe with your eyes and see the punishment of the wicked. If you make the Most High your dwelling—even the Lord, who is my refuge—then no harm will befall you, no disaster will come near your tent. For he will command his angels concerning you to guard you in all your ways; they will lift you up in their hands, so that you will not strike your foot against a stone. … 'Because he loves me,' says the Lord, 'I will rescue him; I will protect him, for he acknowledges my name. He will call upon me, and I will answer him; I will be with him in trouble, I will deliver him and honor him. With long life will I satisfy him and show him my salvation.' " (NIV)
At the time of this writing, I am 90 years of age and I long for the coming of the Kingdom of Jesus Christ. This will be when the gospel is preached in all the world (Matthew 24:14). Join me in looking for this new world without war or sin to ruin it. "Then I saw a new heaven and a new earth, for the first heaven and the first earth had passed away, and there was no longer any sea. And I heard a loud voice from the throne saying, 'Look! God's dwelling is now among the people, and he will dwell with them. They will be his people, and God himself will be with them and be their God. He will wipe every tear from their eyes. There will be no more death or mourning or crying or pain, for the old order of things has passed away.' He who was seated on the throne said, 'I am making everything new!' Then he said, 'Write this down, for these words are trustworthy and true' " (Revelation 21:1, 3–5, NIV). This Kingdom of Jesus Christ lasts forever and you are invited to join it. "Believe in the Lord Jesus, and you will be saved—you and your household" (Acts 16:31, NIV).
Willie Kowarsch