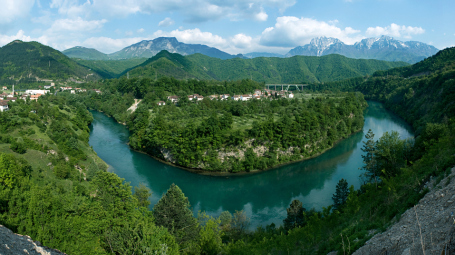 Miracle In The Mountains
Bosnia-Herzegovina is a country on the Balkan peninsula of Southern Europe. Bordered by Croatia to the north, west and south, Serbia to the east, and Montenegro to the south, Bosnia-Herzegovina is mostly landlocked, except for 26 kilometers (16 miles) of the Adriatic Sea coastline, centered around the town of Neum. The interior of the country is mountainous in the center and south, hilly in the northwest, and flat in the northeast. The nation's capital and largest city is Sarajevo, seated between several high mountains, and was thus the host of the 1984 Winter Olympic Games. Formerly one of the six federal units constituting the Socialist Federal Republic of Yugoslavia, Bosnia-Herzegovina gained its independence during the Yugoslav wars of the 1990s. (<en.wikipedia.org> June 2007.)
Driving in much of Bosnia-Herzegovina is at times very dangerous because of the mountainous terrain and narrow roads. These roads become even more treacherous in bad weather. Many of the mountain roads have no guardrails to protect cars from falling off the mountain.
In November 2005, a missionary was driving through the mountains of Northern Bosnia–Herzegovina with a couple of pastors. They were on their way to a conference. The weather was cold and rainy, so they were driving slowly and more cautiously than they would have been in better weather.
As they came around a curve, their vehicle ran across a slippery spot in the road. The car started to slide sideways toward the edge of the mountain. From there, it was a 40-foot drop-off with jagged rocks and a river at the bottom.
As the vehicle began to slide out of control, they all cried out, "Jesus!" The car hit the guardrail with the front bumper, then the side and back of the vehicle hit as it bounced along the guardrail. The impact with the guardrail pushed the car back onto the road.
The missionary and the men with him found a safe place to pull over on the side of the road, then got out of the car to take a look. First of all, they were amazed that there even was a guardrail there. Even more amazing was that the guardrail appeared to be new.
Then they checked out the car. The entire side of the car had hit the guardrail, but they could only find a few scratches on the front and rear bumpers—there was no damage at all to the side of the vehicle. It seemed as though there had been some type of invisible shield across the side of the vehicle protecting them and keeping them from going through or over the guardrail and falling down onto the sharp rocks and into the river.
They remembered Psalm 34:7, which says, "The angel of the Lord encampeth round about them that fear him, and delivereth them." They know that the Lord miraculously protected them that day, sparing them from injury and possibly even death. They are grateful for the Lord's promise to watch over and protect those who love Him!
Jason Parnell