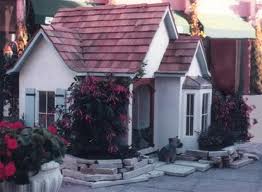 Dogs And More Dogs
Turning to our own times, Bob Sherman tells an experience from his days in colporteuring. He felt he should make about twenty calls a day, but on one occasion he found himself in an area known for its mean dogs. At almost every house there was at least one. And they were not on leash. He could just look down the street and see the ferocious creatures he would have to encounter.
Bob did, of course, what all good colporteurs do about their problems. He prayed—prayed for both guidance and protection. And then he started out. At the first house there was no problem, nor did the dogs bother him at the second home. At the third house, as he stood talking with the lady at the door, she said to him, "Is that your dog sitting out there?"
He turned to look. There was this very large dog, a sort of English-bulldog type. He was just sitting there, and not barking. But his appearance was such that a person would think twice before encountering him needlessly. And apparently the neighborhood dogs shared that feeling, for they did not approach him.
He told the woman he had never seen the dog before. Neither had she.
At the next house it was the same. "Is that your dog sitting out there?" And so on down the street. The dog followed him from house to house, quietly waiting, as if he were on guard. The neighborhood dogs didn't come near. No one knew where the strange dog came from. And when Bob had finished at the last house, the dog disappeared.
As if he were on guard? Maybe he was. Evidently he was! Did an angel put him there?
M. L. Lloyd
God answered his prayer!