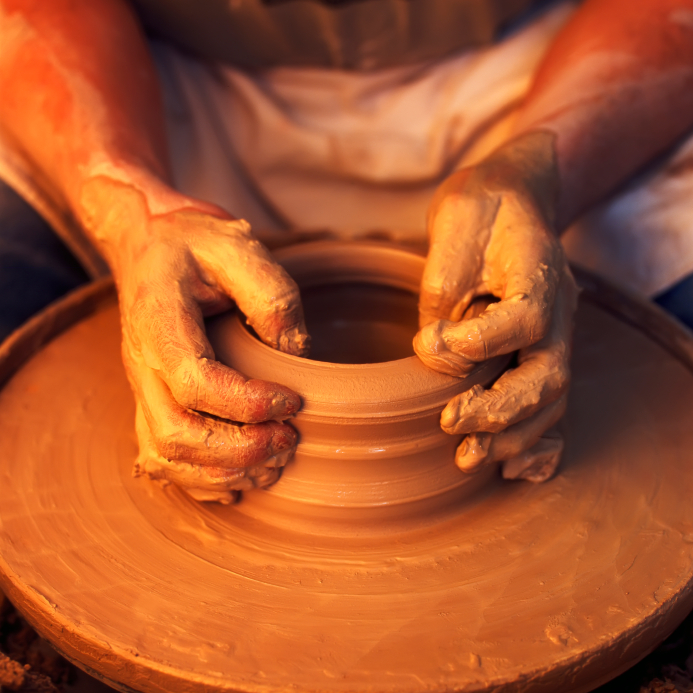 The Potter's Vessel
God knew you before you were even born and He has a very special job that He wants you to do. While we are alive we have to learn lessons of obedience and sometimes God even gives us some trials to see if He can trust us to do the special job He has for us. If you are obedient to your mom and dad and ask God to help you to be willing and able to do the jobs they ask, one day when God knows you are ready to do the job He has for you He will let you know just what it is.
A long time ago, God spoke to a young man whose name was Jeremiah. You can read about him in the Bible book by the same name. God spoke to him and said, "Before you were formed, I knew you. Before you were born I knew you would be a holy person, and I decided that I wanted you to be my prophet" (Jeremiah 1:5). A prophet is someone who can tell what is going to happen in the future.
One day God told Jeremiah to go to the potter's house. A potter is someone who makes pots and bowls and all sorts of things out of clay. When he arrived at the potter's house, he found the potter working. Jeremiah watched as the potter reached down into a deep, rank-smelling pit and brought out a lump of clay. He slapped it onto the stone that was on top of the potter's wheel. The clay was rough looking with lots of lumps and bumps and uneven edges, but he balanced it carefully before starting to work with it. Dipping his hands in water, he steadily held his hands over the clay as the wheel started to spin. As the clay bobbed around, some gentle pressure was applied to hold it in place, preventing it from jumping and lurching. Never did the potter touch the clay without wet hands. The lump soon became smooth, and the potter was able to begin shaping and molding the clay. As the vessel responded to the care of the potter's hand, it was molded and fashioned in just the way the potter wanted it.
You see, the potter had a plan for that piece of clay. When he looked at the marred piece that he had started with, he did not see the lumps and bumps and rough bits. He envisioned a beautiful vessel, and he knew just what would be needed to achieve that goal and what work it would take.
While Jeremiah was watching, before his eyes that marred, old piece of clay was transformed into a beautiful, balanced vessel without any spots or wrinkles.
God then said to Jeremiah, "O house of Israel, can I not do with you as this potter? … Look, as the clay is in the potter's hand, so are you in My hand." Jeremiah 18:6. (NKJV)
David also understood this concept when he said, "I waited patiently for the Lord; and He inclined to me, and heard my cry. He also brought me up out of a horrible pit, out of the miry clay, and set my feet upon a rock, and established my steps." Psalm 40:1, 2. (NKJV)
Jesus says, "I want to take you just as you are. I want to smooth out all your rough spots; take away all of your defects. I want to mould you and fashion you. I want to make you a beautiful vessel, a vessel unto honor (Romans 9:21), one without any leaks, because I want to fill you with My Holy Spirit so you can reflect Me and tell other people of My great love for them. Very soon I am coming back, and I want to take you home to live with Me forever."
May you stand firmly on that Rock of salvation and allow the Great Potter to smooth out all of the bumps and defects of character while time lasts.
Sandra Mulchin