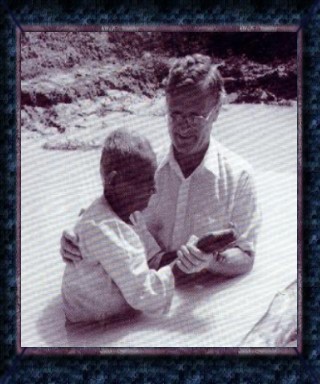 Granny Gets Baptized
Granny Yong Touch has been a Buddhist her entire life. One day the 95-year-old grandmother joined her young grandson in attending the church in Tropeang Ampil Village in Vietnam. There she heard about a man named Jesus who could walk on water.
This story puzzled Granny. That night she dreamed she was standing on the bank of a deep river looking for a way to cross it without a boat. Suddenly a man in white clothes appeared beside her and asked, "Do you really want to cross the river?"
"Yes," answered Granny firmly.
"You can cross the river if you believe." The man said kindly, "Follow Me."
To her amazement, he walked on the water just as Jesus had in the story! Granny followed the man in white and soon she too was walking on the water!
The next Sabbath the old woman met with me and told me about her dream.
"You saw Jesus in your dream?" I exclaimed.
With humble heart Granny reverently responded, "Now I will believe in the Christian God because He has power."
On June 21, 1997, Granny Yong Touch was baptized by Pastor Robin Riches in Tropeang Ampil Village. People in her village say she is too old for Christianity; in fact they are already building a coffin for her. But granny says, "I only regret that I just found the true God after so many years. I may be old in years, but I was only recently born again. I know that I will die soon, but I have the hope that when God comes I will be raised back to life. Jesus has promised, '…he who hears my word and believes in Him who sent Me has everlasting life, and shall not come into judgment, but has passed from death unto life.' John 5:24"
Now weak because of her age, Granny needs your prayers as she witnesses to her family about the power of God in her life.
Pen Narith