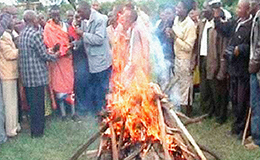 Light In The Darkness
Satan may be a defeated foe, but he does not give up easily, especially in countries where he has held sway for centuries.
The country of Togo, in West Africa, is known as the center of voodoo worship in the world. People who discard their fetishes and voodoo charms in order to worship Jesus Christ often do so at great personal expense.
When Yaovi (Yah-OO-vee), a former voodoo priest, accepted Jesus Christ last year, he and his family asked pastor David to help him destroy his voodoo charms and fetishes that had been the center of his life. He and his wife had a handful of Adventists gathered in a field where Yaovi placed his idols and fetishes. The pastor prayed, then they lit the pile.
The fire drew a crowd of more than 50 curious villagers who stopped to investigate the fire. Some older folks became angry when they learned that Yaovi was destroying his fetishes. They threatened to harm him if he continued.
Yaovi tried to reason with the people. He explained that these were just pieces of wood and stone, and he was destroying them because he had accepted Jesus Christ as the Lord of his life. But the word only made the crowd angrier.
Someone threw a stone at Yaovi. Another cried out, "Let's burn the pastor's motorcycle! He's the one responsible for this. The crows surged forward and began throwing stones and beating on Pastor David and Yaovi. But Yaovi's wife defended him, the crowd backed away, allowing the pastor and former voodoo priest to escape. Yaovi and his wife fled to the home of another Christian, who notified the police. The police arrived at Yaovi's home and found the mob had tied up the entire family and were beating them. Had the police not come, the family would have been killed.
Yaovi was not discouraged. He thanked God that he had been called upon to suffer for Jesus. And Pastor David reaffirmed his intention to return and minister in the village. "I have dedicated my life to bring the light of the gospel to those in darkness. We must build a church in this stronghold of Satan and voodoo worship."
Edwin Eisle