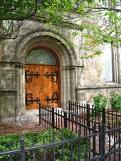 Delivered From An
Angry Mob
There was an occasion when Jesus passed through a maddened mob who were out to destroy Him before His time, without any of them being able to touch Him.
"And all they in the synagogue, when they heard these things, were filled with wrath, and rose up, and thrust Him out of the city, and led Him unto the brow of the hill whereon their city was built, that they might cast Him down headlong. But He, passing through the midst of them, went His way." Luke 4:28-30
Dr. Adam Clarke of Ireland, an early Methodist preacher, and author of the Bible Commentary by his name, travelled all about Ireland, England, Wales, and to the Channel Islands. At that time there was angry opposition to the teachings of Methodism. Dr. Clarke tells a story in which he personally was involved. He has recorded it in his Commentary under his comments on Luke 4:30 – "But He [Jesus] passing through the midst of them went His way." Adam Clarke writes as follows:- "The following relation of facts presents a scene something similar to what I suppose passed on with Jesus on this occasion. A missionary [speaking of himself], who had been sent to a strange land to proclaim the gospel of the kingdom of God, and who had passed through many hardships, and was often in danger of losing his life, through the persecutions excited against him, came to a place where he had been oftentimes before, at no small risk, preaching Christ crucified. About fifty people were assembled. He began his discourse, and after he had preached for about thirty minutes, an outraged mob surrounded the house, armed with different instruments of death. Those within bolted the door, and began to pray. The mob outside began to hurl stones at the house, breaking the windows and the tiles on the roof. In a short time nearly every tile was destroyed, and every window was broken. Then the mob began to try to undermine the wooden building with spades and crowbars. Then the preacher said to the people inside the house:- "This outraged people do not seek you – but me. If I continue in the house, they will pull it down, and we shall all suffer. I will therefore, in God's name and with His help, go out to them, and you will then be safe." He then went towards the door, but the people gathered around him, and entreated him not to go out, as he might expect to be instantly killed, but he went calmly forward, opened the door, towards which a large volley of stones and rocks was hurled, but he was not hit. The wild and uncontrolled mob were all around the door, and filled the road for a considerable way backwards, so that there was no room for him to pass or repass. As soon as the preacher made his appearance, the savage mob became instantly silent and still. He walked forward toward them, without saying a word, and they divided to the right and to the left, leaving a passageway of about four feet for himself and a young man who followed him, to walk in. He passed on through the whole crowd, not a soul of whom either lifted a hand against him, or spoke one word, until he and his companion had gained the uttermost skirts of the mob, and safety. After they had fallen back to right and to left to leave the minister a free passage, they were as motionless and still as statues. He, passing through the midst of them, went his way. The very next week, the minister went back to the very same place to meet with the people in the same house, and to preach to them the Gospel, without any further unruly disturbances to their meetings by the angry mob.