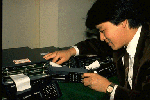 Caught By Christ
I grew up in a traditional Chinese family. My parents worship ancestors and follow the traditional religions of China. They gave me an excellent upbringing and encouraged me to excel in school. Their influence helped me get into the best schools, and when I graduated I thought I was pretty good—like a little god.
I went to Australia to continue my studies. There I met another Chinese student who invited me to attend a care group—a small Bible study group. The small group and the Bible drew me to God. I am a logical person and I enjoyed studying Bible prophecy. I reasoned that if so many Bible prophecies had been fulfilled, then prophecies about the future must be true, as well. I wanted to know where we came from and where we are going. The studies gave me hope about the future. Heaven became my goal.
As a student, my life is really busy, but I discovered that the Sabbath was a precious respite from work and studies. I began keeping the Sabbath and discovered that even with fewer hours of study I still did well on my exams and papers. I know that God was blessing me.
I used to think I could solve my own problems. But when I repeatedly failed my Australian driver's license test, I became frustrated. Finally, I surrendered my need to God, and He gave me peace and helped me pass the test on my next try. I've learned to pray about everything and let God control the outcome.
God taught me about prayer and about the Sabbath. But I made excuses about Baptism—I wasn't good enough, I was too busy. Then at a retreat for young people, God impressed me that I needed to commit my life to Him through baptism. When I surrendered, I felt such peace!
I'm seeing God work miracles in my life every day. He has given me a great job right out of college, even though I am a foreign student with little experience. I understand now that everything in this world is under God's control. I thank God for my friends at the university, who invited me to study the Bible with them and become a part of their care group. What a great God we serve, and what a great church family we have.
Thank you.
Jim Fong