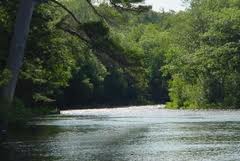 Survive Freezing River
We don't hear much about spiritual, mental, and physical readiness in regard to being prepared for the unexpected challenges that we all must be prepared for at all times.
Being an adventurer, I never know when I must accept a life-threatening challenge during the course of a day.
Recently my wife Debra and I had decided to take a canoe ride down the eight mile Sebec River which runs along the west boundary of our property in beautiful north central Maine. Since mud season had just passed we thought that the high water had subsided.
We invited our good friends, …Roland and Mary Richards, to go along with us.
The water was up and very swift compared to its normal low condition, and the water temperature was less than forty degrees. About halfway we suddenly heard the raging sound of rapids that I had never heard on this river before. As we approached the "Rips," as they are called, we realized that we should have portaged around them. The raging water was overwhelming for us. We had our fifteen-year old, mostly blind and deaf pet Shelty, Pee Wee, and my seeing-eye dog, Bronnie. Debra was in front, the two dogs in the center, and I assumed my usual position at the stern of the canoe.
As we flew into the rapids, our canoe was immediately caught in an eddy, which put us into a spin. The dogs stood up to see what was going on and a wave overcame the side of the boat, throwing us all into the icy fury. The forty- degree water carried Debra and me under as the canoe was upstream to our bodies, and it took a while just to escape from the canoe. Then we were carried by the raging flow across the rocks and boulders at tremendous speed, bruising and scraping our bodies as we were churned about in the water like we were in a blender on high speed.
We both managed to grab a rock and we were about twenty feet apart and about thirty yards from shore. The rushing water made it impossible to even think about making a break for shore. Within minutes our bodies were numb from the cold and we knew that we were rapidly sinking into hypothermia and if rescue was not imminent we would surely perish.
We could not communicate with each other because of the noise of the water. It was just like standing by a freight train. Debra was in a much less turbulent area than I, and she could hear me. I could hear the noise when she screamed but could not delineate the words. I told her to pray let and God tell us what to do.
I kept thinking that our only hope was for our friend Roland to come rescue us, not having any idea that the same thing was happening to him and Mary at the same time just one hundred yards down stream.
A man and his wife who were at a fishing camp nearby heard our friend Mary screaming for help and immediately ran to our rescue.
To make a long story short, they rescued Pee Wee, who had made it completely through the "rips." Mary, who was floating in her life jacket at the end of the "rips," and Roland and Debra who were able to make it to shore.
They knew that I was still stuck in the icy water and had been there for an hour and a half.
They radioed by CB and contacted 911. When rescue arrive, I had finally had to let go of the boulder, and had made it to a small island where I ran in place until they arrived. Since I had no feeling in my body below my neck, I could not stand up or use my hands. I had to prop up on a tree and partially support my weight in order to move my feet, which I knew I had to do to survive.
Bronnie had gotten to shore as he is a very strong swimmer. He found Debra and after he got warm was doing fine as he stood at the bank, watching me intensely until they got me to shore.
At the hospital it took two hours for the emergency room staff to get our body temperature up to 94 degrees. Usually a person looses consciousness at that temperature and if that had happened to us, we would have perished.
In retrospect, we all felt that if we had not been well-nourished and physically fit we would not have been able to have withstood the low temperature for almost two hours.
… Thanks to a loving God and our healthy lifestyle, we can share this story with you. One never knows what challenges we will need to face during a day, so we must always be prepared!
B. Irwin