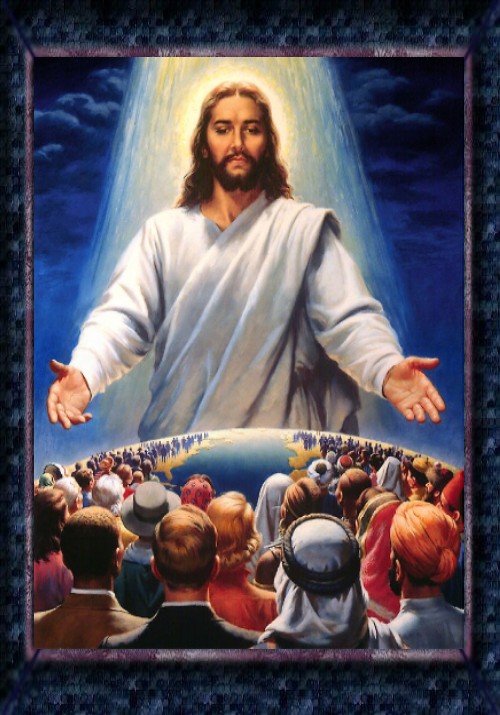 Into All The World
If we could see all the people all around the world who have gladly received the message and have turned from their evil ways to love the Lord Jesus and to help in carrying the gospel, it would be a little like the kingdom of God. It is the kingdom of God in the hearts of the people, for before Jesus can come in glory, He must come with grace into the lives of His people, and make them ready to live with Him forever.
Sometimes in our General Conferences all these people do send a few of themselves to show us how the gospel of Jesus is encircling the earth and bringing into His kingdom people of every nation and kindred and tongue and people. There are white people, black people, brown people, yellow people, and red people. There are tall people and short people, broad people and thin people. There are people with blue eyes, people with black eyes, people with gray eyes, and people with brown eyes. There are people with black hair, brown hair, yellow hair, and white hair, straight hair, curly hair, and frizzy hair. They come dressed in all sorts of clothing, some with coats and pants, some with coats and skirts, some with flowing robes. They wear white clothes, black clothes, and clothes pink, yellow, blue, brown, striped, and mixed in colors like Joseph's coat. Some of them wear shoes, some wear sandals, and some go barefoot. Some wear hats, some wear turbans, some wear shawls, and some put nothing on their heads. But when you hear them sing, and hear them tell how the gospel has changed their lives, you know that they all love Jesus, and He loves them.
Sometimes they bring a few of their children with them. Here are little Indians from the highlands and the river jungles of South America. Here are some bright-eyed little Hindu boys and girls from India. Here are some Chinese and Japanese boys and girls, with their straight bobbed hair and shining black eyes. Here are some African children, who can sing wonderful songs. And mingling with them in the children's meetings are fair-haired boys and girls from countries of the North like Sweden, and brown-haired boys and girls from Germany and England and Russia and Australia, and black-haired boys and girls from Italy and Peru and Persia. And there with them are you! What a gathering! What a gathering!
There was a Karen boy in Burma, which is far across the ocean, near India. This boy's name was Ba Twe. He lived with his people away back in the jungle, and he knew nothing at all about Jesus. But there came into that land a company of missionaries, and made a school for the Karen boys and girls and young people, at Ohn Daw. And Ba Twe's father sent him to this school.
"Ba Twe," said Brother Eric Hare, who was at the head of the school, "Ba Twe, are you a Christian?"
"Oh, no," said Ba Twe, "I am not a Christian."
"Are you a Buddhist?" There are a good many Buddhists in that country. Buddha was their teacher, many generations ago, as Christ was our teacher. But Buddha was no savior, as Jesus Christ is.
Ba Twe said, "No, I am not a Buddhist."
"What are you, then?" asked Brother Hare.
"I guess you must just say I'm a heathen," said Ba Twe.
So as a young heathen boy he went to the Christian school. But he came to love the Sabbath and to sing the songs of Jesus and to learn the Bible verses. And he gave up smoking and chewing betel nut, which is worse than tobacco. And he gave up eating pork, which is—well—not nearly so good as peanuts, for example. But he never prayed, and he never spoke in meeting, and he never would do anything that he thought was Christian, though all the time he was doing more and more things that were Christianlike.
"I'm a heathen," he would say. "God would not want me to pray to Him, or to speak for Him, or to work for Him, because, you see, I'm a heathen!"
Ba Twe went home in the summer, and there his father set him to herding the two family buffaloes. Buffaloes are much like our cows. And one day Ba Twe fell asleep out there in the grassy plain, and his buffaloes strayed away, and he lost them. He just could not find them, though he hunted everywhere. So he climbed a tree to see if he could see his buffaloes anywhere. No, he could not.
But something said to him up there in the tree, "Pray to God to find your buffaloes for you."
"Oh, no," said Ba Twe, "I couldn't pray. I'm not a Christian."
But still the voice within him said, "Pray, pray!"
So at last he prayed, "O God! Help me to find my buffaloes."
And then, right under his tree, he heard, "Moo-oo-ooo!" And there were his buffaloes!
Then Ba Twe said, "I must be a Christian, because I prayed to God, and He answered me."
So back to school went Ba Twe. And now he told Brother Hare, and he told all the teachers and all the students, that he was a Christian, for God had just the same as talked to him. And he grew, like the boy Jesus, in wisdom and stature and in favor with God and man. He stayed in the school until he had finished it, and now he was a tall, big boy, fifteen years old or more.
When he went back home he said to his father, "I want to go away up into the hill country and teach the wild Karen people about Jesus."
So his father said, "Go, my son, and God go with you!" Ba Twe slung a bag of rice over his shoulder, and he put a pack of simple medicines on his back. And up into the hill country of the Karens he went. Nobody heard anything of him for a long time.
His older brother went to look for him pretty soon. But after a few weeks his brother came back, and said: "I could not catch up with Ba Twe. Everywhere I went, the people said, 'Oh, yes, we know that big, tall boy with the pack of medicines. He heals our diseases. He teaches us how to live. He shows us pictures, and he tells stories to the children and to us from the Golden Book about his Jesus. You go ahead, you catch him.' But," said Ba Twe's brother, "he went so fast I could not catch him."
"Never mind," said his father. "When his medicines give out, he'll come back here to get some more."
But Ba Twe did not come.
A few months after this, down to the nurse's office in Ohn Daw came a little old lady from the hills.
"I want some more medicines," she said, "like your missionary gave to our babies and to us, to cure our fevers."
"Why, Auntie," said the nurse, Yeh Ni, "we have no missionary up there."
"Oh, yes, you did have," said the old lady, "a big, tall boy with a pack of medicines on his back. And he told us stories from the Golden Book about Jesus. And he cured our fevers. And he loved us. And we loved him."
"Why," said Yeh Ni, "that's Ba Twe, sure as can be."
"Yes," said the little old lady, "and before he died, he told us to come down here to get more medicines. So I have come."
"Before he died!" cried Yeh Ni. "Is Ba Twe dead?"
"Oh, yes. He got the bad fever. And he had no more medicines. He had given them all to us. So he died, and we buried him up there, on the hillside above our village. Haven't you somebody who will come and do what he did for us?"
All the school was stirred by the story the old lady told. They mourned for Ba Twe, but they gathered in meeting, and they said, "We must find someone to take his place."
Then Kale Paw, a young teacher, sprang to his feet. "I'll go," he said.
"And who will go with you?"
"Yeh Ni, the nurse, will go with me," he said. "She is to be my wife, and I will go, and my wife, Yeh Ni, will go."
And they did go. So up there in the Karen hills, away over next to Siam, the work went on, the work begun by Ba Twe, the boy who thought he was a heathen, but who found he was a Christian, and then could not rest until he went out to teach others about Jesus and His coming.
Oh, when the Lord Jesus comes in glory, what a gathering there will be, of the fathers and mothers, the young people and the children, from all the lands beyond the sea, from every nation, kindred, tongue, and people—all who love the Lord and look for His appearing.
"At the sounding of the trumpet, when the saints are gathered home,
We will greet each other by the crystal sea.
When the Lord Himself from heaven to His glory bids them come,
What a gath'ring of the faithful that will be!
"What a gath'ring, gath'ring,
At the sounding of the glorious jubilee!
What a gath'ring, gath'ring,
What a gath'ring of the faithful that will be!"
Arthur Spalding