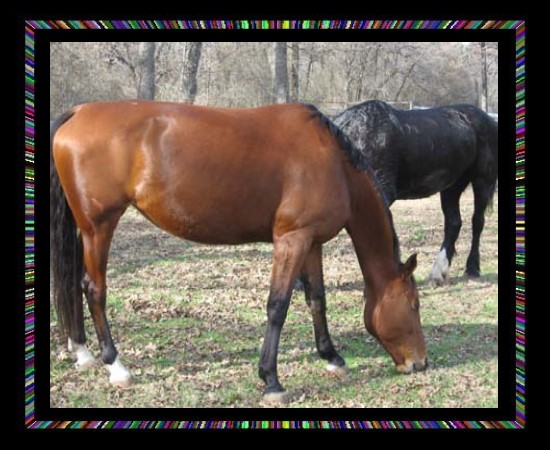 Broken Bone
I think that my deep desire for a horse was ingrained in me when we saw the unbelievable sight of these magnificent horses they had at the fair. The students were given tickets to the Los Angeles County Fair in Pomona.
We did not go on the rides and play the games. We were fascinated with animals the Lord had made, they had the best of animals. The very best of a vast variety of animals. The horses were awesome. The most beautiful were the huge palominos, just as shiny and clean as could be.
My younger brother and I were horse lovers. One day Mother bought a horse at the auction. My brother John Arthur and I split the cost and now we actually had a horse.
She was a beautiful brown with a white star within a star on her forehead. We were told that she was from the Colorado range, so she needed to be trained. She was saddle broken but that was about it. Her name was Lady and we all had plenty to learn.
It wasn't long and Mother bought another horse at the auction. He was a small black horse and his name was Jigger. He was very tame and we had a lot of fun with him.
Well, one time I was riding Lady out under the walnut trees on a warm sunny day. She was going where she wanted to go and I was ready to go another way. I put the reins over for her to turn the other way but she did not want to go that way.
She gave a kick and a bump and away I flew, but she stayed there. I landed on that hard sun baked ground, just a little ways from a mound of cement where the irrigation water comes out. Mother took me to Dr. Ford and found out that I had a broken collarbone. He put a cloth brace on my shoulders to keep them in place. I don't think I have had anything so painful as that collarbone rubbing together, in all my life before or since then. It hurt so bad I couldn't lie on my bed. I had to sleep on something more firm. I slept on my back on the piano bench so my shoulders could hang over the side so my back wouldn't curve.
I praise the Lord for His care and protection for it certainly could have been worse.
J Weber