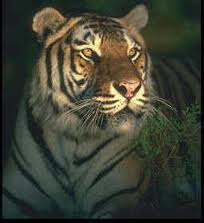 Tiger On The Trail
Pastor Lloyd Wyman's father, while stationed in Burma, also heard an insistent voice. Messengers came to his home one evening, asking that he come with them to a village about two hours away where there was a great deal of sickness. He hesitated to make the trip at night because he had only a little oil in his lantern. Also a man-eating tiger had been reported in the area. So he decided to wait until morning. It would be necessary for him to get back the next evening, but the messengers promised to make the return trip with him.
He found a great deal of malaria in the village, and he did all he could for the people during the day. Toward evening, with the messengers, he started the trip home. They had gone only a little way when a voice said to him, "Light the lantern!" He turned to the others and asked, "Did you hear that?" "No." Again the voice said, "Light the lantern!" And again he asked, "Did you hear a voice?" No, they had heard no voice.
He was reluctant to light the lantern before it was really necessary because he had so little oil. But twice he had heard the voice distinctly, "Light the lantern!" so now he stopped to light it. And the moment he struck the match he understood. For there, fifteen feet ahead, right in the bend of the path, sat a tiger!
The tiger, as soon as it saw the light, ran off into the jungle. But then it turned, came back, and followed them all the way home.
And the oil did not run out!
M. L. Lloyd